"Enabling UN Logistics Operations"
FSDH is a Section of the Logistics Division in the Office of Supply Chain Management (OSCM) located in the Regional Service Centre in Entebbe (RSCE). The Section was established by General assembly resolution A/75/770  dated 22 February 2021 which provides the vision for a more agile, cost-effective, transparent and accountable services for all Secretariat offices through the identification, acquisition and delivery of goods and services at the right place, the right cost, while increasing cooperation within UN system.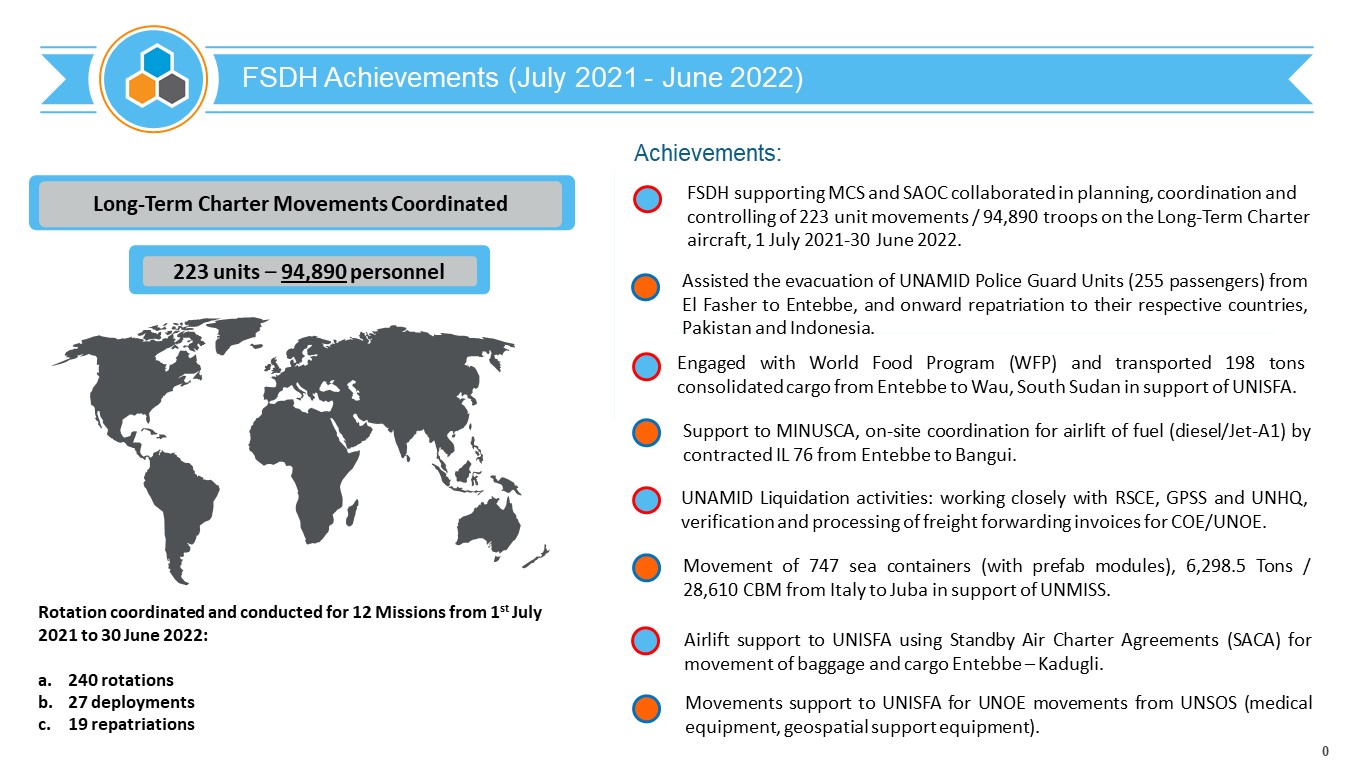 FSDH ROLE & VISION
Coordination of regional and ad hoc supply chain management, encompassing all missions in Africa.
Following the strategic vision of OSCM/Department of Operational Support (DOS), FSDH, through its three units endeavors to enhance the realization of the overall organizational vision of a well-managed and agile supply chain to support United Nations field missions.
FSDH will play its part for enhances operational efficiency and responsiveness, optimal management of resources, client satisfaction, minimizing duplication of effort and opportunity realization.



Inspection of UN vehicles departing UNAMID.

 




FSDH manages Freight Forwarding contracts for UN Owned Equipment (UNOE) on commercial Merchant Vessels. 

This is a screenshot dated 26 August 2022, when three such vessels were being tracked.

 




A shipment of UN Owned Equipment (UNOE) is shipped on a merchant vessel destined for a peacekeeping mission.

 
The operationalization of FSDH will improve workflows and processes for the support of the regional missions in logistics and supply chain management services.
The FSDH will enhance the overall supply chain operation by minimizing duplication of functions, minimizing waste, increasing resource utilization, and better operational coordination, thereby improving the overall responsiveness to client mission requirements.



UN Owned Equipment (UNOE) is sometimes shipped by air, by contracted air carriers.

 




The FSDH Air Enabling Unit (AEU) tracks aircraft in the region, including mission aircrafts Stand-by Air Charter Agreement aircraft and the Long-Term Charter aircraft when operating in the region

 




A contracted IL-76 aircraft equipped with Bulk Fuel Delivery System positions in Entebbe to delivery fuel from Uganda to MINUSCA.

 
FSDH COMPOSITION
AIR ENABLING UNIT (AEU)        
Assists the regional client entities and field entities in meeting their aviation requirements for transportation of passengers and cargo in coordination with the Logistics Division, Air Transport Service (ATS) in UNHQ and the Strategic Air Operations Centre (SAOC) in Brindisi. The AEU shall facilitate where possible the identification of regional resources for tactical local and regional operational aviation requirements and support the establishment of regional Stand-by Air Charter Agreements (SACA) solutions for effective utilization of air resources. AEU will support the development of regional and inter-mission air transport solutions as and when required to enhance response times and improve efficiencies.   
MOVEMENT OPERATIONS, FREIGHT​ FORWARDING SUPPORT UNIT (MOFFSU)      
Coordinates and facilitates tactical local and regional movement requirements in support of the field missions to broaden transportation options for the client entities and field missions. MOFFSU will also manage and coordinate the Global Freight Forwarding contracts in support of freight needs including contract management with end-to-end oversight on the performance. In collaboration with the Movement Control Section (MCS) in the Logistics Division will support the establishment of regional 3rd party logistics contracts in support of the regional transportation and distribution and inter-mission movements as the need arises.  
REGIONAL DEPLOYMENT SOLUTIONS UNIT (RDSU)   
Aims to identify in collaboration with the United Nations Global Service Centre (UNGSC) Strategic Deployment Stocks (SDS) goods that can be pre-positioned and centrally stored in Entebbe for rapid distribution to client entities and field missions as well as allow for regional sourcing of commonly used goods which can improve delivery lead times responsiveness, and benefit from economies of scales.  RDS works with UNGSC/SDS to enhance the Regional Deployment Solutions stock rotation to reduce stock holdings at individual missions, conduct inventory and warehouse management activities and ensure the readiness of commodities for distribution from Entebbe to missions in the region and fulfill orders and support the movement of these stocks to/from missions thus ensuring business continuity.