Paulin Djomo
Chief,  Regional Service Centre Entebbe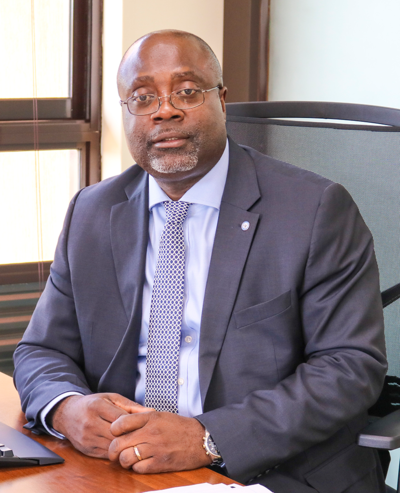 Mr. Paulin DJOMO joined the United Nations Regional Service Centre Entebbe (RSCE) in Uganda, as of Monday 18 December 2017.
Before joining the RSCE, Mr. Djomo has served the United Nations for the past 21 years in a variety of positions and different UN entities; the International Organization for Migration (IOM), the United Nations High Commission for Refugees (UNHCR), the United Nations Development Programme (UNDP) under the UNV programme, the UN Secretariat (MONUC - FPD/DFS). His most recent assignment was in Yemen/Jordan where he served as the Chief of Mission Support for the Office of the Special Envoy of the Secretary General for Yemen (OSESGY), based in Amman. He is a national of Cameroun, where he studied and graduated in Law at the University of Yaoundé.
Mr. Djomo has extensive experience in Human Resources, Administration, Budget and Finance. While serving at United Nations Headquarters, he was included and contributed to several working groups, strategic and technical assessment teams that provided strategic guidance to field operations at different stages of their existence. He also assisted the Department in the establishment of the RSCE under the Global Field Support Strategy (GFSS) initiative. He was responsible among other undertakings for identifying non location dependent Human Resources transactions that will be part of the shared services and develop the rationale for an economy of scale.
Emmanuel Ngor
Chief,  Regional Information and Communications Technology Services
Mr. Emmanuel Ngor has broad experience serving in peacekeeping missions, where he has held various ICT supervisory and managerial positions in UNMIK, UNOMIG, UNIIIC and Entebbe as well as at the United Nations Stabilization Mission in the Democratic Republic of the Congo (MONUSCO), where he served as Chief CITS.
In addition to his technical work, Mr. Ngor contributed to the development of "Working Smart: The Foundation Module" of the DPKO's Senior Mission Administration and Resource Training (SMART) programme.
Before joining the UN, Mr. Ngor was a Research Assistant at Dublin City University, Republic of Ireland, as well as Supervisor of ICT Network and Research Analyst at the Shell Company of the Sudan Ltd.
Mr. Ngor holds a Master of Science in Computing from the Loughborough University, Loughborough, Leicestershire (United Kingdom).
Born in 1970, he is married and has two children.
Conrad Lesa
Chief, Financial Reporting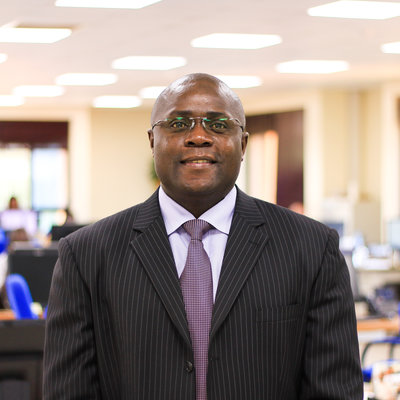 As Chief of Financial Reporting at the Regional Service Centre at Entebbe (RSCE), Mr. Conrad Lesa manages the Accounting and Financial Reporting functions of the UN Peacekeeping and special political client missions of the RSCE under International Public Sector Accounting Standards (IPSAS). Mr. Lesa is also responsible for the oversight of internal controls across all RSCE financial and transactional processes. Mr Lesa's role extends into being the subject matter expert and key advisor to senior management on matters of accounting, financial reporting, internal controls, external and internal audits. He manages a cross functional team of both international and national accounting and finance professionals at the Centre.
Mr Lesa, began his career in the United Nations working for UNRWA (United Nations Relief and Works Agency for Palestine Refugees in the Near East) in 2005 as Deputy Chief of the Accounts Division at its headquarters in Gaza and Amman, Jordan. He then worked at UNOPS as Accounting Manager at its Headquarters in Copenhagen. Before joining the UN Secretariat at the RSCE in November 2014, Mr Lesa was the Chief Accountant (Manager, Accounting and Financial Reporting) for the International Fund for Agricultural Development (IFAD) in Rome, Italy, a specialized agency of the United Nations and an International Financial Institution for five years.
Before coming to the UN, Mr Lesa worked as a professional accountant and external and internal auditor in Zambia working for the Bank of Zambia (Central Bank), Citibank and Deloitte & Touche.
Mr. Lesa is a Chartered Accountant, a Fellow of the Association of Chartered Certified Accountants (ACCA) of the United Kingdom, a qualified Accounting Technician with the Association of Accounting Technicians (AAT) - United Kingdom.
Mr. Lesa also holds a Master's degree in Business Administration (MBA) and currently pursuing a Doctorate in Business Administration by Distance Learning.
Zewdu Tegen
Service Delivery Manager, Benefits & Entitlements
Mr. Zewdu Mebrat Tegen is a Service Delivery Manager for Benefits & Entitlements at the Regional Service Centre Entebbe (RSCE).  He oversees operations of five service lines comprising Civilian Benefits and Payroll, Onboarding and Separation, National Staff, Uniformed Personnel and the Regional Training and Conference Centre. 
Mr. Tegen joined the Centre with over 20 years of professional experience in financial management and accounting variously in public sector and international institutions.  He began his career in the UN system with UNICEF as Accounting Manager in the Financial Management and Administration Centre (FMAC), Copenhagen, Denmark.
In addition to his regular duty as a manager, Mr. Tegen has played a pivotal roll spearheading various projects in the Centre, inter alia;
• Assessment missions that laid the roadmap for smooth transfer of functions from client missions to the Centre,
• Site Coordinator for successful deployment of Umoja Foundation in the RSCE,
• Technical focal point for the successful adoption of IPSAS in the RSCE, and
• Administrative support during the start-up phase of UNMEER leading a team of Finance, HR and Travel Officers
Mr. Tegen, a Registered Public Accountant, is a Fellow Chartered Certified Accountant and a member of the Association of Chartered Certified Accountants (ACCA).  He holds MBA and Post Graduate Diploma in Management Studies from Nottingham Business School in the UK., and a Bachelors Degree in Accounting from Addis Ababa University, in Ethiopia.
Josef Salani
Service Delivery Manager, Allowances & Payments
As a Service Delivery Manager of Allowancse & Payments at Regional Service Centre Entebbe (RSCE), based in Uganda, Mr. Josef Salani is head of a service delivery pillars that has five service lines responsible for processing transactions on behalf of RSCE's client and non-client missions. These transactions are in respect of Education Grant Entitlement; Entitlement Travel (Home Leave, Rest and Recuperation etc); Vendor Payments, Cashier Services; and Official Travel (Travel for Meetings and Training).
Prior to joining the RSCE, Josef Salani was working at a Global Shared Service Centre for United Nations Development Programme (UNDP), based in Kuala Lumpur, Malaysia. He joined the GSS Centre at its inception in November 2011 and worked in different portfolios until his departure in May 2016. At the GSS Centre, Mr. Salani initially worked as Regional Services Manager, responsible for UNDP country offices in Africa and Arab States regions. Later on, following a restructuring of UNDP, Mr. Salani was reassigned to head a global Record to Report (RTR) team that was responsible for transaction recording and reporting for UNDP country offices and Headquarters Offices.
Prior to joining the UN common system, Josef Salani worked in the private sector with several years in Audit and Assurance, Accounting, Finance and General Administration.
Josef Salani's background is primarily Finance. However, having worked in Accounting and Finance for many years, he has now specialized in Outsourcing in general and Shared Services in particular, and Operations Management.
Since joining the RSCE in May 2016, Josef Salani has worked hard in ensuring better client service, improved the speed of processing transactions to meet Key Performance Indicators and oversaw the renewal of big budget Travel Management Services contract, among other achievements.
Josef Salani is a Fellow of Association of Chartered Certified Accountants (FCCA) and a US Certified Internal Auditor (CIA) as well as an International Public Sector Accounting Standards (IPSAS) Specialist, certified by the IPSAS Board in United Kingdom.
He also holds a Master's degree in Business Administration (MBA Finance) and a Bachelor's degree in Accounting.