RSCE Opens New Recreation Area For Staff and Visitors
After a long week with average temperatures of 28 degrees at the Entebbe Support Base, the long-awaited gazebos at the Regional Service Centre Entebbe have officially opened for use at a ceremony presided over by Paulin Djomo, Chief of RSCE.
The 3-year-old project was commissioned officially by Chief of Premises Yury Cherep, Anita Pinto, Procurement Officer and long serving member of staff, Martha Ludigonyenje from UNFCU and Paulin Djomo, RSCE.
Speaking at the event, Mr. Djomo explained that the gazebos were for the free use of all staff and visitors on the Entebbe Support Base and emphasized the commitment to provide a safe and healthy workplace for the staff.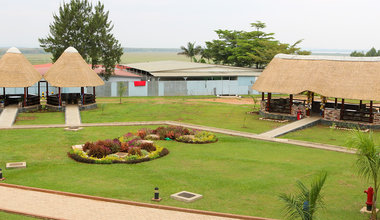 "These gazebos were designed for you to relax and feel at home. If you notice, one of them  has a sofa so if you feel like taking a power nap to recharge your batteries, feel free to do so." He said.
The furniture in the three gazebos is set up differently to accord users different benefits. The large gazebo houses 12 two-seater setups for a more private setting in case one wants to have a one on one discussion. The second gazebo has sofa sets while the third can be used for breakaway sessions or meetings.
Mr. Djomo told the staff that attended the opening ceremony that the idea for the gazebos had evolved over time. He pointed out that there was a deliberate effort in their construction as he wanted to maintain a traditional look and feel and to maintain the UN value of diversity.
The grass to thatch the roof was sourced from Northern Uganda while the labor to thatch was sourced from Southern Uganda. The furniture too was locally sourced and funded by the United Nations Federal Credit Union (UNFCU).
Mr. Yury Cherep praised the development and noted that "…this part of the base looks nice and as the entrance point of the base it is a good addition to the surroundings. I am looking forward to the next project."
UNFCU's Ms. Ludigonyenje thanked the Chief RSCE for the opportunity to partner with RSCE on the project and pledged more support to RSCE projects as and when the need arises.
In closing, Mr. Djomo thanked the players responsible for the fruition of the gazebo project that include the Engineering Section, Contract Manager, Procurement Unit, Landlord and UNFCU before inviting the group into the large gazebo for refreshments.