RSCE Team visits MONUSCO in Kinshasa and Goma
A five person strong team from RSCE headed for Kinshasa and Goma in DR Congo on 18 September to meet with colleagues and staff members in MONUSCO to get a better understanding of their specific needs, host walk-in clinics and get a feel for life in field missions.  
The team composed of team leader Zewdu Tegen, Service Delivery Manager of Benefits and Entitlements, Rosette Ruyonga of Civilian Benefits &Payroll, Betty Adumo Hermann of Onboarding & Separation, Xaplanteri Anastasia of Onboarding & Separation and Placidie Mukeshimana of Vendors, spent three days in Kinshasa and two days in Goma from 18-22 September, in an effort to bridge gaps between the RSCE and MOUSCO. They hit the ground running with a "we are here to help you," attitude.  As MONUSCO staff began to come forward with their problems, our RSCE staff brought their best efforts forth to solve them on the spot.
"This was my first visit to one of the missions that we serve and I was very excited about it. I wanted to experience the atmosphere and see the challenges that staff in missions are fronting. They are doing the real work, we are simply back office staff. One of the main advantages of going there was that we were able to show MONUSCO staff that we care and I think that they could feel it. Also I cannot emphasize enough the importance of bringing Service Line staff along to these missions, to give people who we speak on a daily basis the opportunity to meet face to face" says Ms Xaplanteri.
Amidst some concerns over gaps in communications between RSCE and client missions there has recently been a push to make RSCE more visible in the field. "I already have a good relationship with HR staff in MONUSCO, mainly because I have opted for using the phone rather than writing emails to people. However, nothing compares to meeting in person, and we were able to not only share experiences but also look for solutions together," says Ms Ruyonga.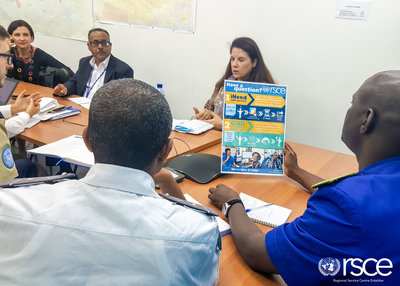 This was the first trip to the field for some of the team members and upon landing in Kinshasa Ms Hermann had this to say about her first impression of the city, "I expected Kinshasa to be like Entebbe since both are family duty stations but the two cities are very different.
She says that staff are crammed into small offices and are having to move between MONUSCO HQ and another building. HR and finance staff are in a different office to the management, so even moving between offices is physically exhausting. "Also, it was difficult to get a meal for less than 45 USD so now I understand why some people are really desperate to get their claims through. Seeing the conditions that people are working under in Kinshasa and Goma have made me realize that they are relying upon me. I not only make a point out of picking up all phone calls now but I also try to be more proactive and patient in my approach to how I handle requests, having seen with my own eyes the kind of problems some staff are faced with on a daily basis," she says.
The visit turned out to offer the team from RSCE a whole new perspective on life in missions, with some, like Ms Ruyonga, wanting to venture out to more remote field missions to discover their reality. "Seeing with my own eyes the complexity of the situation away from what we are doing at our offices, I think it is time to stop pointing a finger at each other and start building relationships instead," she said.
Ms Xaplanteri, also calls for more unity. "We need to understand that we are all plagued by the same restrictions and sometimes mountain of bureaucratic rules. Also having experienced the challenges staff in missions are faced with, such as budget cuts and poor infrastructure, just to mention a few, we need to have more empathy with each other and find a way to make it work," she concluded.