RSCE hosts 4th Client Board Meeting
The Regional Service Centre Entebbe hosted its 4th Client Board Meeting from 6-7 July 2017 in the Regional Training and Conference Centre in Entebbe, Uganda. The meeting was chaired by UNSOS Director, Mr. Amadu Kamara. In attendance were representatives from RSCE's client missions including MONUSCO, MINUSCA, UNMISS, UNSOS, UNOCA, OSASG-Burundi, UNMIL and MINURSO. Client Board participants advanced on several substantive proposals and they were happy by the initiatives that have been taken by RSCE to address the needs of field missions.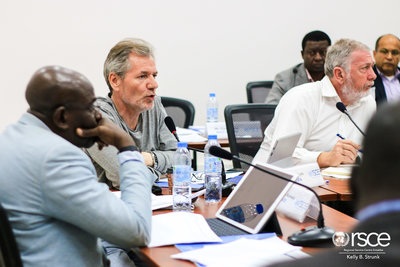 They especially welcomed the news of the new Call Management System, allowing for a more structured approach for the escalation of indeed client tickets.  With a number of added benefits such as staff extensively trained in providing customer service and a real-voice caller menu instead of text-to-speech technology.
In order to provide a comprehensive service it was suggested that the Call Management System employed French speakers to cater to francophone countries and that efforts were made to consolidate call center work hours with that of the different client missions.  
Amongst other issues discussed were: whether there are any actual financial benefits in continuing to apply the 16-day travel rule; a call for more training to ensure that staff know how to use the travel module correctly; and the possibility of using other communication channels to convey information.  
Also, RSCE Managers provided updates on their respective service lines and were able explain the backdrop to why some long outstanding cases, often a bone of contention at mission level, had remained unresolved.  In that context there was a call for identifying more effective ways to communicate and more opportunities for field missions and RSCE to hear each other out, and from there on map a way forward.
Still when real RSCE figures were laid on the table, showing 84,000 transactions per year for uniformed personnel only and scoring 74 per cent in the most recent Client Satisfaction Survey , it was evident that the Service Centre has made giant steps since its inception in serving a complex set of needs in client missions.  
The meeting concluded with a solid list of action points to be taken forward.  RSCE is appreciative to all of the participants for a cooperative and productive meeting. We also send our thanks to all those who made the trip to Entebbe and everyone at RSCE and RTCC who made the meeting possible and productive.  The RSCE staff looks forward to hosting the Client Board again.​