Where "business as usual is not enough," UN Secretary-General Antonio Guterres lauds RSCE's client orientation and innovation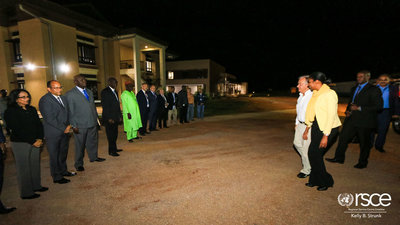 UN Secretary- General Antonio Guterres visited the Regional Service Centre Entebbe on Friday 23 June, 2017, while he was in Uganda to co-host the 2017 Solidarity Summit on Refugees with the Ugandan government.
Uganda faces the world's fastest growing refugee emergency, with 1.25 million people driven into the country by intense fighting in South Sudan. Embracing/embodying the Summit's call for solidarity, former UN High Commissioner for Refugees Guterres also travelled to Imvepi Refugee Reception Centre in Arua, to hear the refugees' stories first-hand.
Yet his tight schedule did not stop the Secretary- General from also visiting the RSCE, the "most mature service centre" among similar entities serving UN peacekeeping missions, Ms. Safia Boly, Chief RSCE, gladly pointed out.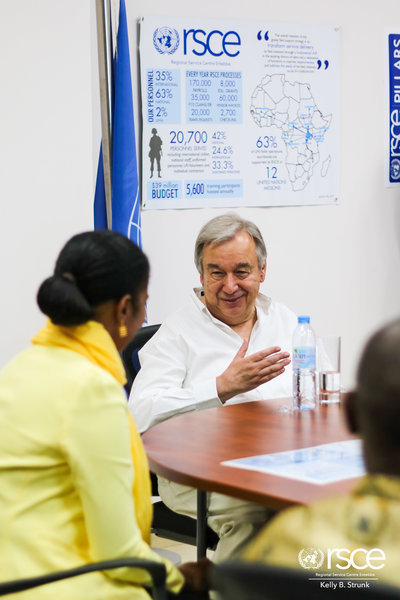 Despite the late hour of his arrival, Mr. Guterres was warmly welcomed by senior management from UN Entebbe Base and the RSCE's Service Lines, who were proud of the rapid growth the centre had undergone in the seven years since its inception.
Championing the regional cooperation model the Secretary-General had urged for during a town hall meeting attended by RSCE staff via VTC earlier that day, the RSCE Chief presented the centre's reform-oriented approach of breaking down the functional silos of field support.
With cost-effectiveness and accountability equally important on the Secretary's agenda, the RSCE could showcase its annual savings of 25 million USD and rigorous internal control mechanisms. The latter have enabled the RSCE to continuously improve its services to the people who make the values of UN peacekeeping a reality - blue helmets, political advisors and support staff, from Laayoune, Western Sahara to Juba, South Sudan.
Presented with the results of the latest Client Satisfaction Survey, in which the overall services provided by the RSCE were rated as favourable at an all-time high of 74%, the Secretary-General commended the "important services" the RSCE contributes to "key peacekeeping operations" in Africa.
Overcoming its physical distance from the client missions spread across the continent, Ms. Boly highlighted the unique outreach model of the RSCE. Whether through the iNeed query management system, its call centre or mission visits with walk-in clinics addressing clients' most pressing issues, the RSCE always puts its missions' personnel first.
In alignment with the Secretary-General's remarks that "business as usual is not enough," Ms. Boly also outlined the RSCE's change management strategy and provided an outlook on the centre's future. Impressed with the RCSE's client orientation and forward-thinking approach to service delivery, the Secretary-General thanked and encouraged the RSCE to keep up its relentless efforts in supporting peacekeeping missions across Africa.