Workshop to Tackle Conflict-Related Sexual Violence
Thirty nine participants from five peacekeeping missions and one special political mission participated in the fourth training of trainers' course about how field missions can help prevent conflict-related sexual violence (CRSV) and respond effectively.
Regional Service Centre Entebbe (RSCE), hosted the above mentioned course from 10-15 July 2017, a joint effort by the UN Departments of Peacekeeping Operations and Field Support (DPKO-DFS) and key partners—including the Department of Political Affairs, the Office of the High Commissioner for Human Rights, the Office of the SRSG on Sexual Violence in Conflict, UN Action, and the UN Population Fund in support of the field missions with the CSRV mandate, specifically the missions in Central African Republic, Darfur, the Democratic Republic of Congo, Iraq, Mali, Somalia and South Sudan. "The purpose of this training of trainers' workshop is to build capacity in different United Nations' missions by training dedicated staff to work on this issue both from a strategic and operational level, " said Mr. Lifongo William, Programme Officer at the Office of the Special Representative of the Secretary-General on Sexual Violence in Conflict.  
He went on to say "conflict-related sexual violence needs to be tackled right from SRSG level to the victim affected. Right now we are experiencing a lack of awareness amongst UN Staff and the public at large and this type of training offers an opportunity to raise the priority level. My office is advocating for the implementation of our mandate through a multi-sector approach to address sexual violence. We need to pull all our resources together in an integrated approach in a joint military civilian effort," he concluded.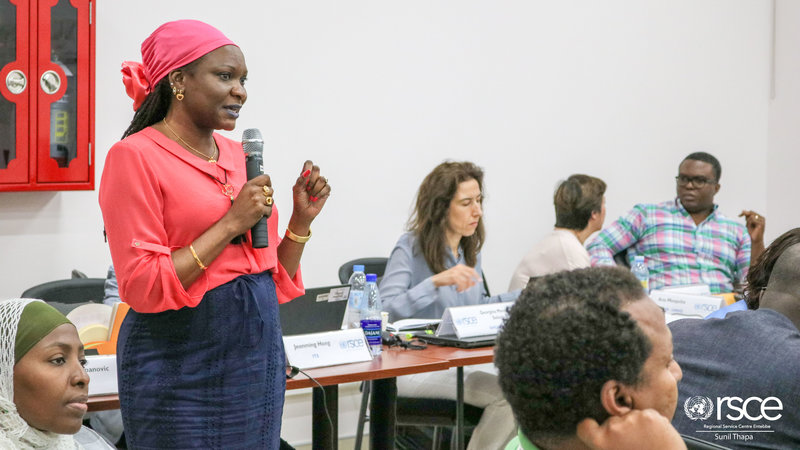 Some of the trainees who included UN military and police personnel, Women's Protection Advisers (WPA), and representatives of Integrated Mission Training Centers Women told how women and young girls continue to be subjected to rape and sexual violence across Africa.
Augustin Miriom, a WPA/Training Officer with MONUSCO gave an example of how armed groups in the Democratic Republic of Congo use rape and other sexual crimes as an actual mean to send messages across to each other, to show their rival groups that they are in control of an area.
"Rebel groups would take young girls whom they find in the forest collecting firewood or near rivers fetching water and rape them. It's only with an order from the military commander that such crimes can be prevented. Furthermore, it is through real political engagement from the President that these crimes can be prevented. Otherwise, the other way to stop these acts from happening is to stop the conflict," he emphasized.  
Some participants were asked how they go about tackling the issue of conflict related sexual violence in their missions and this is what Major Andreas Andersson, member from the Swedish contingent serving at MINUSMA as Force Military Gender Adviser said, "Foremost, we educate our soldiers on what to do if they come across victims or actually catch someone in the act. We train soldiers how to take care of victims' most acute needs, providing first aid through to documenting the crime."​ 
Senior Women Protection Advisor for MINUSMA, Bernadette Sene, said, "The team in MINUSMA is currently working with the Communications Unit, and Radio Micado, using several approaches; visual, radio, plus debates to communicate with the locals. We engage local parties to fight against sexual violence, and use the support we can get from senior leaders to move this in the right direction."  
This TOT–ITM that was funded by the Government of Japan and the Government of the United States was meant to enhance its participants' capacity to better implement the CRSV mandate. According to Chiyuki Kozuka, from the Policy and Best Practice Service of DPKO-DFS: "Integrated training is designed to build coherence and synergy among all mission components… through comprehensive strategies, programs and activities to accelerate mission-wide coordination and operations." They further mainstreamed and prepared their mission components to effectively implement the conflict-related sexual violence (CRSV) mandate in order to counter grave human rights violations in a united mission approach.​